FL STUDIO GROOVE V1.4 X86 X64 WIN10-DVT download for free
Категория: Music Soft, EXCLUSIVE/Promo | Views : 1420 | Author: seradmin | Date: 15-03-2016, 04:57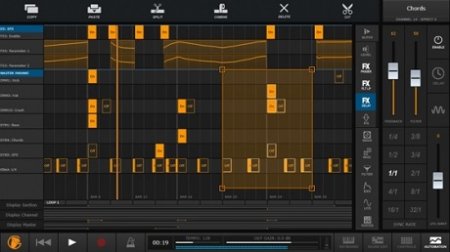 FL Studio Groove is a touch-based music production & performance application. With a 10 pad sample-based drum machine and 5 polyphonic synth channels you get all you need need to compose, arrange, edit, mix and perform professional quality music.
What can it do?
Make complete songs, play & program synthesizers, play drums, add effects, edit musical sequences.
Features:
- Windows 8 Touch | Music Production Application
- Sequence Drums
- Powerful piano roll for melodic work
- Flexible mixer with production & performance effects
- Two-tier piano keyboard optimized for touch
- 10 drumpads with dual-sample layering
- FX: Glitch, Flanger/Phaser, Delay, Filters, EQ, Bit-crusher & more
- Five 2-oscillator synthesizer channels
- Create basses, leads, pads or experimental sounds
- Record automation of almost any parameter.
FL Studio Groove allows you to create music loops that can be chained into complete songs. Or perhaps you just want to lay down a percussion track and play keyboards over the top, you can do that too.
Synthesizer:
Load from the extensive library of bass, keys, lead, pad, sfx and synth sounds. The flexible dual-oscillator, wave-shape driven, design with filters, 3 envelopes and LFO architecture will ensure you can create fresh and unique sounds for years to come. Listen to the presets and you will know how powerful the FL Studio Groove synths are.
Keyboards:
Take control over the synthesizers with FL Studio Groove's two-tier touch keyboard, perfect for playing chords and melodies. The visual feedback will even help you to learn to play music just by watching the existing projects play.
Drums & percussion:
Punch out a beat on the 10 drum pads. The velocity-through-position feature will allow you to play with feeling to get the right groove. Layer up two samples per-pad for complex sample mash-ups. A comprehensive library of percussion samples is included covering kicks, snares, toms, hats, cymbals, sfx and more.
Effects:
A wide array of modern and classic effects are available including a Bit Crusher (for lo-fi gritty sounds), Flanger & Phaser (to create complex stereo washes and spacey effects), Filters (low, high pass & vowel-voice simulation), Delay (echoes), Reverb (to simulate the sound of large halls through to tight spaces), Panning (so you can spread your sounds across your speakers) and Ring modulation (creating screaming-feedback type sounds).
Sequencing:
After recording a performance FL Studio Groove's touch-optimized easy editing features make it a breeze. You can edit in all the musical parts from scratch here too. The Piano-roll allows note entry and step-entry for percussion tracks. Finally, record and edit the movement of almost any knob or control with the Automation editor.
egq7i.FL.Studio.Groove.v1.4.x86.Win10DVT.rar
egq7i.FL.Studio.Groove.v1.4.x64.Win10DVT.rar
Related-news: